"Remembering nothing from the day before, crotchety octogenarian Paul Jacobson must become an amateur sleuth to clear himself as a murder suspect when he finds a dead body in the trash chute of a retirement home. As Paul's snooping and short-term memory loss get him in trouble with the local police, his new friends and granddaughter Jennifer help him solve an expanding list of crimes. Paul finds romance as he struggles to escape a murderer intent on a repeat performance."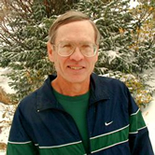 Boulder author, Mike Befeler, launched his debut novel, Retirement Homes Are Murder, in 2007 to critical acclaim. As part of the sub-genre, "geezer lit," this book comes on the scene just as Boomers glimpse their own retirements just over the horizon.
Capabilities is proud to announce that Mike Befeler will join us for a reading and book signing on June 4 at 6:30 p.m. at
our location
in Westminster, CO. Come meet this author, enjoy snippets from his first novel and his most recent novel,
Living With Your Kids is Murder
, released in April 2009. Ask questions and offer your own "geezer" stories over refreshments.
RSVP
highly suggested for this entertaining evening. You may purchase Befeler's books at Capabilities.